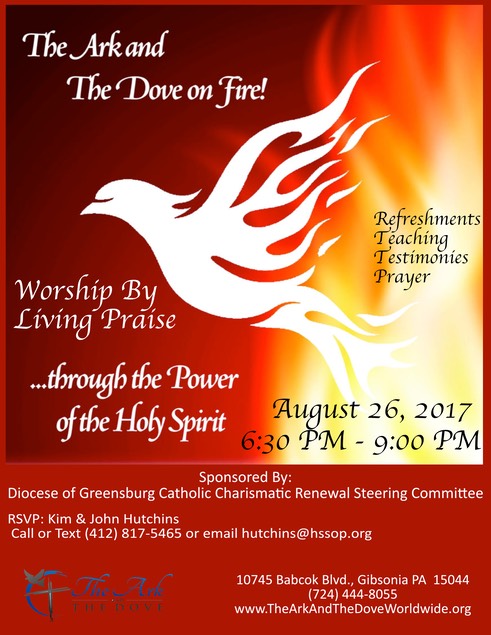 Please RSVP: Do to logistics, we need to have an idea of how many people are coming. We want to make sure that everyone has a great experience. There will be a free will offering for The Ark & The Dove. 
A school designed to help you grow in your faith and renew your prayer life by reliving the "upper room" experience of Pentecost.

"Dear brothers and sisters, our Christian communities must become genuine 'schools' of prayer, where the meeting with Christ is expressed not just in imploring help but also in thanksgiving, praise, adoration, contemplation, listening and ardent devotion."
John Paul II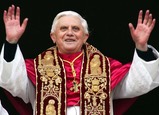 "Today I would like to extend this invitation to everyone, Let us rediscover, dear brothers and sisters, the beauty of being baptized in the Holy Spirit. Let us be aware of our baptism and of our confirmation, sources of grace that are always present. Let us ask the Virgin Mary to obtain a renewed Pentecost for the Church again today, a Pentecost that will spread in everyone the joy of living and witnessing to the Gospel."
Pope Benedict XIV
NEWS
In response to Pope Francis' commission to the Renewal, in the hopes of unifying the many expressions of the Renewal, in anticipation of the Jubilee and the 50th anniversary of the Duquesne Weekend, to reclaim our historical site, to proclaim the love of God though His Son Jesus in the POWER of the Holy Spirit, The Ark and The Dove can be that rallying point for the Renewal worldwide!     
~ Johnny Bertucci, NSC Chairman
SR. ANN INFANGER
After 28 years, sister steps down from charismatic liaison's role
MARY SEAMANS  THE CATHOLIC ACCENT

By Colleen Pollock
Contributing Writer
GREENSBURG — A longtime leader in charismatic groups in the Diocese of Greensburg has stepped down from her role after nearly three decades. Sister of Charity Ann Infanger, 83, retired July 1 as diocesan liaison for the Catholic Charismatic Renewal (CCR), a role she had held since 1988. 
As liaison, she worked with groups that fell under the CCR umbrella, helping to plan outings, special Masses and other events, and to encourage involvement in the charismatic movement, which started in 1967 at Duquesne University, Pittsburgh.
She was instrumental in forming the Family of God Charismatic Prayer Group at Seton Hill in 1971, one of the early charismatic groups in the diocese. 
"The liaison is like a leader in the diocese, working with other prayer group leaders to provide opportunities for meetings, arrange for healing Masses and encourage people to be involved with meetings that are national and international," Sister Ann said. 
"We ask the Holy Spirit to bring special blessings to the Catholic Church and encourage others to be open to the Holy Spirit and ask him to take over and help us." 
Msgr. Larry J. Kulick, diocesan vicar general, praised Sister Ann for her dedication to the diocesan spiritual renewal under Bishops Anthony G. Bosco, Lawrence E. Brandt and Edward C. Malesic. 
Msgr. Kulick said Sister Ann has successfully blended the elements of her religious life and the charisms of St. Elizabeth Ann Seton with her role in the diocesan charismatic movement.
 "On behalf of Bishop Malesic and myself, I express sincere gratitude for the tremendous dedication she has exhibited while holding this position," Msgr. Kulick said. "Working under three bishops is really a testament to her personal dedication and leadership to the charismatic renewal in the Diocese of Greensburg." 
Sister Ann, who is celebrating 60 years of religious life this year, taught biology at Seton Hill University from 1963 until retirement in 2005. She now teaches a freshman religion seminar and senior seminar on happiness.
She also volunteers at the Christian Layman Corps Thrift Store and the St. Vincent de Paul Conference at Blessed Sacrament Cathedral, both in Greensburg.
She will continue participation in the Family of God group that meets at Seton Hill's Doran Hall.
"The whole emphasis of the prayer meeting is about praising God and being open to his word, about forgetting our worries and concerns and concentrating on the goodness of God," she said. "Praising God is always a good thing."
Bishop Malesic has appointed John and Kim Hutchins, parishioners of Our Lady of Grace Parish, Greensburg, to succeed Sister Ann as liaison.
The Catholic Accent
2016-07-14 - Volume 56, No. 4
After 28 Years, Sister Steps Down From Charismatic Liaison's Role
Direct Link to Article
http://www.bluetoad.com/display_article.php?id=2533131&view=320920